RL-2240
50/60 HZ Transformers Dual/Tran™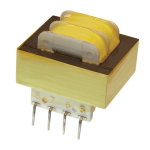 Download Datasheet
Transformers
RL-2240
The advanced design and manufacturing techniques of using split bobbins and nonconcentric winding of the primary and secondary results in low interwinding capacitive coupling and eliminates the need for electrostatic shielding. It also avoids crossover of primary and secondary leads.
These transformers can be used in a wide variety of applications since they can be supplied with single 115VAC or dual 115/230VAC primaries for 50/60Hz operation. Their split secondary windings allow them to be hooked up in series, in parallel or they can be used as independent and isolated outputs.
The RL-2240 series is HIPOT tested at 2500VAC and are manufactured to Class B 130°C insulation. All transformers are designed to meet UL and CSA specifications.