RL-1386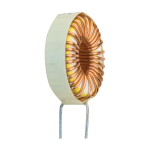 Toroid
RL-1386
Swinging choke requirements can now be satisfied with the RL-1386 Series of SWINGDUCTORS™ that were primarily designed for use in applications that require a known inductance change with changing current loads as in power supplies.
Although similar in appearance to conventional toroids, the special core material allows a "controlled saturation" so that a specific inductance value is repeatable at a specific current. The core material is effective up to 1 MHz. As a result of the toroidal design the SWINGDUCTORS™ produce a closed magnetic field resulting in low EMI. All chokes are supplied with pretinned leads for easy PCB installation.
Selecting the correct SWINGDUCTOR™ is simplified since a wide choice of standard devices covering an extensive range of inductance values and current ratings are available.
Typical Applications
Switching Power Supplies
Hash Filters
RF Filters
Output Chokes
EMI/RFI Filtering