RL-3430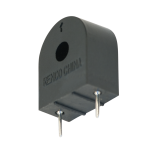 Toroid
RL-3430
These encapsulated Current Sensing coils are designed for PC board mounting and are used as a nonintrusive method of controling, monitoring or measuring AC currents. The sensors are non-contact devices having no DC power loss resulting in no heating problems. High quality toroids are used in order to obtain optimum performance over the designated current and frequency range.
Features
Molded Aperture for Primary Wire(s)
Frequency Range Up to 100kHz
Meets VDE Specifications
PC Board Mounting
PLICATIONS:
Isolated current feed-back signal in Switch Mode Power Supplies
Motor current load/overload
Isolated bi-directional current sensor with full wave bridge rectifier
Ultra-sound current
High resolution sonar current
Notes
Maximum operating temperature: 105°C.
Maximum ratings are with a 1 turn primary and specified secondary terminating resistance.
Amp/microsecond (A/usec) rating of primary equals Volt/microsecond
(V/usec) rating of secondary when the secondary is terminated with its specified resistance. (Note: A/usec is equal to the product of a square wave pulse current, in Amps, multiplied by the current pulse width in microseconds.)
Inductor scale factor is: Vout = 1 Volt/Amp when the specified erminating resistance is used.