RL-2535
Molded Wire-Wound Chip Inductors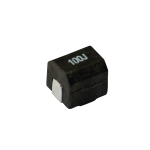 Download Datasheet
Surface Mount
RL-2535
Features
Leaching resistant terminations due to metal tab electrodes.
Coils encapsulated in heat-proof resin achieve accurate dimensions and are resistant to mechanical shock or pressure.
High resistance to heat and humidity.
Applications
Microtelevisions
Liquid crystal televisions
Video cameras
Car stereos
Television tuners
Cell phones
Radio equipment and modules such as hybrid ICs.
Specifications
Operating Temperature: -40°C to +130°C
Storage Temperature: -40°C to +125°C
Precautions
After mounting components onto printed circuit board, be careful not to bend or mishandle the board.
When hand soldering, apply solder iron to the printed circuit board only.
Temperature of the iron tip should not exceed 230°C with soldering time < 3 seconds.
Reflow soldering condition:
230°C+/5°C (260°C+/5°C for Pb free).
Tape and  Reel Packaging
Part Number     Pieces per reel     Plastic reel size
RL-2535                  1,000                          13"