RL-1518
Swingductor™ Vertical Mount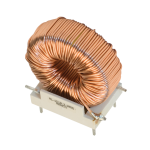 Download Datasheet
Toroid
RL-1518
Electricity identical to RL-1386 Series but uses convenient toroid boat for easy, rugged, printed circuit board mounting. Can be used to mount any type toroid.
Notes:
Inductance ±25%, measured at 1 KHz on ESI Model #252.
Drive level at which you test is important.
Leads for PC mounting tinnned to within 1/16" of body.
Nonstandard values available on request.
Encapsulation available.
RDC measured @20°C.
On larger units and units wound with finer wire additional mechanical mounting is recommended.
Horizontal mounted units also available.
Saturation currents shown are for MAXIMUM drop of L indicated, i.e., if 20% drop for a 100µH choke is at 2 Amps, at 2 Amps the L will be  ≥ 80µH.