RL-1500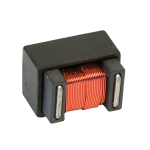 Download Datasheet
Surface Mount
RL-1500
The RL-1500 Series offers over 45 standard inductive values covering a range of 1.0µH to 6.8mH with rated currents of up to 1.8 Amps AC. They are ideal for surface mount assemblies using vapor phase or infrared soldering. This series uses a nonconductive high volume resistivity, low loss ferrite material.
The square shaped encapsulation cover and flat top make this component highly suitable for automated pick and place assembly.
Notes
Saturation current for 5% decrease in inductance value.
Saturation current for 10% decrease in inductance value.
Tolerance for values from 1µH to 10µH are ±20%. All other values are ±10%.